Earth Day is coming up in just a few days. We thought, what better way to celebrate than to share some tips to help you and your loved ones practice sustainability in the garden? Now you might be wondering, what does it mean to garden sustainably? As we know, the earth has limited resources. By choosing sustainable practices you are helping to conserve water and resources, restore or maintain the health of your soil as well as give back to the earth that so graciously gives to us.
Introducing more earth-friendly habits doesn't have to be a huge event. It can be little steps at a time that make a big difference. Incorporating even just one of these tips into your routine is a big accomplishment! We are all doing what we can and that itself is enough. With that said, let's get into some of the ways you can start making a difference with these sustainable gardening tips and practices.
Cut back the chemicals
Chemicals and pesticides are an easy and effective way to rid your garden of unwanted intruders. Although they may seem like a quick fix, the long-term damage it causes can be catastrophic. Soil has a very complex ecosystem filled with the necessary insects, fungi, and other living organisms that keep it healthy and thriving. Instead of using damaging products that could interrupt its' natural process, try using organic alternatives such as Captain Jack's Neem Oil which we carry in our Garden Center!
Mulching
Mulch is a layer of material added to the surface of the soil to help conserve moisture, reduce weed growth, and improve the overall health of the soil. By adding mulch to your garden and landscapes, you are helping to keep moisture in the soil resulting in less frequent watering which conserves water! Common organic mulch materials used include bark, grass clippings, straw, and pine needles.
Kill the till
When I was beginning my gardening journey I always thought that tilling the soil was an important part of the process. Turns out, it's actually a lot more harmful than you would think. Healthy soil has a very delicate microbiome (A community of microorganisms including fungi, bacteria, and archaea) that when tampered with or interrupted can expose said microorganisms and kill them. Tilling can also be very harmful to any beneficial insects living underground that contribute to the overall health of its ecosystem. One fact that took me by surprise was finding out that tillage can also actually release carbon in the form of CO2 that is stored in the soil which can then contribute to carbon emissions. By minimizing or cutting out the tillage of healthy soil, not only are you improving the overall health of your soil but you are helping cut down carbon emissions as well!
Introducing Biodiversity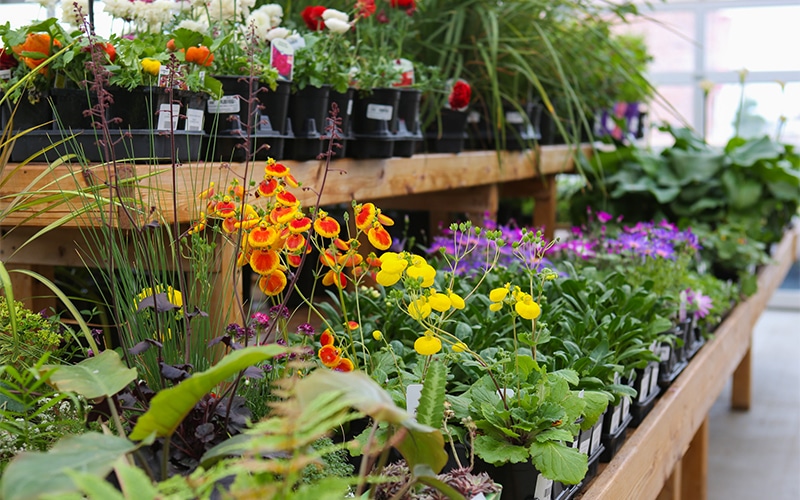 You may have seen a new garden trend popping up where lawn space is being replaced with native plants or more diverse gardens. Now I'm going to tell you a few reasons why this trend is actually extremely beneficial to the environment. Grass lawns take a lot of money, water, and chemicals to keep up, they diminish essential and beneficial biodiversity, and the use of gas lawn mowers also contributes to the already problematic CO2 emissions. By introducing more natural and/or native plant growth in your landscapes you are helping prevent species loss, encouraging pollination, conserving recourses, and saving money. It's a win-win for everyone!
There are plenty of ways you can incorporate sustainability into any gardening routine. As said at the beginning of this article, adding even just one of these practices makes a big difference! Figuring out what to do and how to do it can be a difficult process. In our Garden Center, you can find experts to help you find exactly what you need and answer any questions you might have. We hope you enjoyed this article and spend some time outdoors this Earth Day!
If you like this blog post, check out our 5 Must-Have Spring Annuals
By Faith Jamison