So, you want some privacy? Many customers come into the garden center searching for an option to keep their landscape a private oasis. Our garden center team gave their personal recommendations for screening trees and shrubs as alternatives to vinyl fencing and arborvitaes.
Here are a few important questions to ask yourself when considering a living screen:
"How much time do I spend outside?"
Consider all four seasons – you might think an evergreen is ideal, but don't rule out deciduous options if you don't spend much time outside in the winter.
"How much maintenance am I willing to put into these plants?"
Some customers will come in with a specific plant in mind but are dissatisfied with the mature size because it's either too tall or too wide. Our solution? Choose an alternative that doesn't require high maintenance pruning. If you spend a lot of time in the garden and find joy in landscape upkeep, something more ornamental might be a good fit for you.
"How much light exposure does the space I want to plant in get?"
Light requirements and heat tolerance make or break a plant's performance. Before shopping, watch how much sun the space you want to plant in gets.

Tip: In Idaho, many broadleaf evergreens require afternoon shade because their waxy leaves will otherwise burn in our climate.
Seneca, Franz Witte President:
Emerald Isle® Leyland Cypress
Cupressocyparis lelandii
Height: 25 ft
Spread: 8 ft
Exposure: Full sun
Consider this beautiful deep green and fast-growing cypress as a screening option or windbreak. Emerald Isle is naturally and distinctly pyramidal and doesn't require trimming when in its natural form. This tree can be shaped as a hedge or topiary with regular pruning. Emerald Isle has a strong growth habit, and its soft textured foliage adds a graceful look to the landscape.
Amy, Greenhouse Team Lead  
'Medora' Juniper
Juniperus scopulorum
Height: 12 ft
Spread: 2-3 ft
Exposure: Full sun
Medora juniper handles the heat better than an arborvitae and doesn't get nearly as tall. This shrub has a compact and upright growth habit which does not require any pruning! The powdery blue needles offer a fine, delicate texture. Medora is extremely cold hardy, alkaline soil tolerant, and waterwise. Plus, the males don't produce berries.
Lily, Custom Potting Team Lead
'Cupressina' Spruce
Picea abies
Height: 25 ft
Spread: 6 ft
Exposure: Full sun
Narrow, columnar, and fast-growing, the Cupressina spruce is the same width from base to crown. This tree is similar in size to an arborvitae, but the dark green needles set this attractive specimen apart. Dense habit, uniform form, and strong vertical presence make the case for an ideal privacy wall. Cupressina spruces are cold hardy and withstand snow loads better than many other columnar evergreens.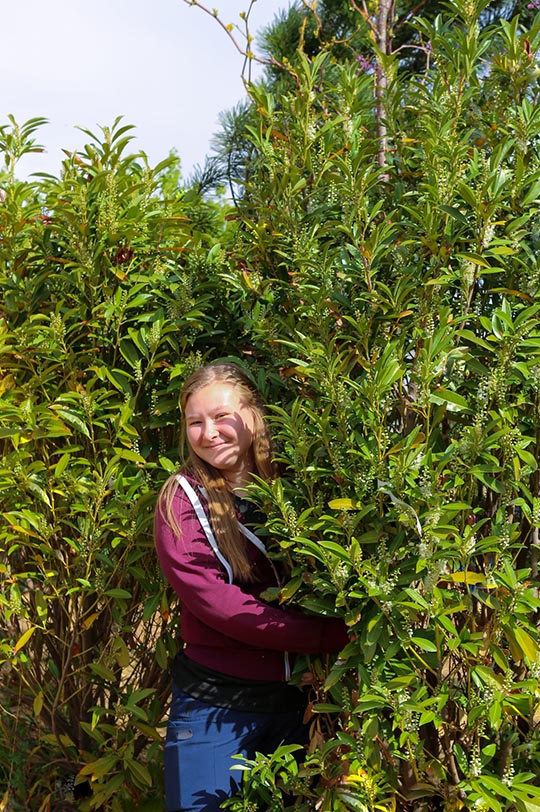 Emily, Watering Team Lead
'Schipkaensis' Cherry Laurel
Prunus laurocerasus
Height: 10 – 18 ft
Spread: 10 ft
Exposure: Part shade
The skip cherry laurel is a broadleaf evergreen shrub that provides ample screening when in a row. This shrub has waxy, dark green leaves and white flowers in the spring for pollinators. The dense growth makes this plant the perfect contender for a screening option. It has a beautiful natural form but can easily be shaped into a hedgerow for a more formal look. Skip laurels perform best in afternoon shade. Plant on a raised mound or small hill for extra height and privacy.
Tracy, Sales Team Member
'Trautman' Juniper
Juniperus chinensis
Height: 12 – 15 ft
Spread: 4 ft
Exposure: Full sun
Trautman is a landscape winner because of its slim, upright form which fits well in tight spaces. This juniper has coarse, blue-green foliage and holds its color well in heat or cold, plus it's drought tolerant. Females produce silvery-blue berries in the fall, which feed the birds throughout the winter. Trautman's slender profile creates an airy screen rather than a dense hedge. Pair with colorful, deciduous shrubs for contrast and extra interest.
Meghan, Sales Team Member
Fine Line® Buckthorn
Rhamnus frangula
Height: 7 ft
Spread: 2-3 ft
Exposure: Part to full sun
In the words of Meghan, "Elegant, classy, clean." Fine Line buckthorn is a deciduous shrub, but intricate branching still provides privacy in the winter. This space saver has fern-like fine leaves with a columnar habit. Plant in a row for a delicate but compact privacy screen or as a stand-alone accent. This specimen is a must-have for the landscape!
Kathryn, Sales Team Member
Plant a variety!
Don't limit yourself to just one plant, especially if you have a small yard, and throw in some deciduous shrubs to mix it up.
Riley, Marketing Writer
Espalier fruit tree
Height: 6 – 8 ft
Spread: 6 ft
Exposure: Full sun
Espalier (ess-PAL-yay) fruit trees fit a very specific niche in the landscape. These are the ultimate space savers with high ornamental value, character, and unique garden artistry. Horizontal branches not only create privacy but a living, fruit-producing fence. These "flat" fruit trees can grow along fences, trellises, or freestanding posts with horizontal wires. Apples and pears are commonly espaliered, and they require a little more maintenance to keep their shape.
By Riley Rehberg