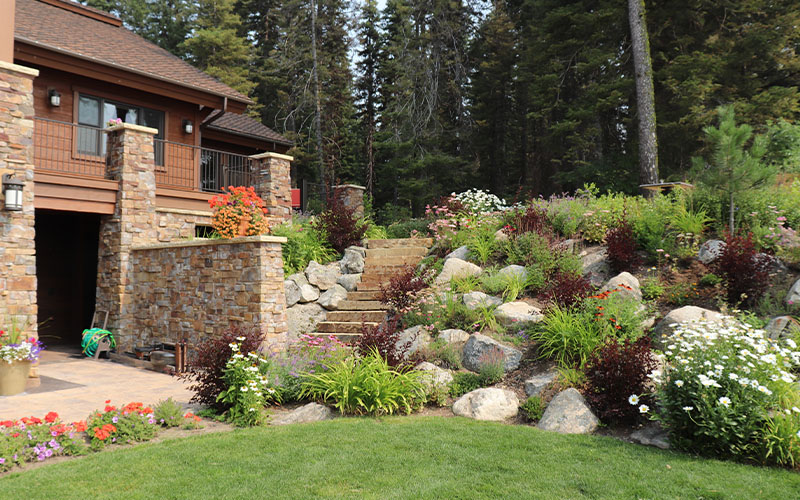 Franz Witte has built a reputation in McCall for over 10 years as the go-to for high end residential landscape design and construction. Nobody beats our quality, service, or eye-catching results. Your landscape should be not only practical, functional, and long-lasting, but awe inspiring. That's what we deliver. Contact us today to get started on an estimate.
McCall wouldn't be the same without its prominent landmarks and destinations: The Pancake House, Alpine Village, N 3rd Street, and Shore Lodge, to name a few. Franz Witte has been servicing these locales for years, providing high quality flowers and landscape maintenance. So the travelers, locals, and guests can enjoy the beauty of McCall, and businesses can enjoy the peace of mind that comes from working with experts who listen and care.
Your yard is your home's first impression; make it a good one with the Franz Witte team. We're in the business of caring for properties like they were our own – looking ahead, problem solving, and tending to every need. So you can spend more time enjoying the outdoors with the people you love.
Let Franz Witte McCall Guide You
Whether you're looking to enhance your personal space, maintain a commercial or residential property – we are here to help you from start to finish! Contact us today to request an estimate.
You love planting and getting dirty — but sometimes you just need to get the job done and move along. We're here for you. Bring in your own pots or select one from our garden center and we'll put together a beautiful custom arrangement. You'll get all the compliments and none of the dirty fingernails!